An updated (or retro) CEP logo might be in order.
You can add your (re)design to this page.  Give it a number one higher than the previously listed one so that it can be discussed in the comments/talk page.
The images below are thumbnails you can click on to see the full sized designs.
---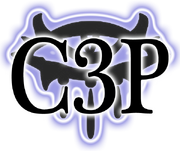 My idea for a new logo for CEP 3.  Not too extravagant.  Colors and font can be played around with.
MDA
(Logo 1)
---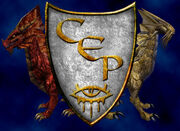 My 1st idea for a redesign of the logo, based on the
old logo
and using resources taken from the game (hardpoints' dragons from the CEP, the shield shape from shields found in one of the last patches, and
Reforged textures
I put up on the Vault a year or so ago).

-The Amethyst Dragon
(Logo 2)
---
Ad blocker interference detected!
Wikia is a free-to-use site that makes money from advertising. We have a modified experience for viewers using ad blockers

Wikia is not accessible if you've made further modifications. Remove the custom ad blocker rule(s) and the page will load as expected.